Antonio Jesus Romero
My interest in livestock comes from my family. My grandparents, both paternal and maternal, were already dedicated to the breeding of Iberian pigs more than 80 years ago. This traditional activity is deeply rooted in the village where I come from, Hinojales, and in all the municipalities that make up the Natural Park Sierra de Aracena and Picos de Aroche in the province of Huelva (Andalusia). Probably the best known municipality is Jabugo, which is located just 15km from our farm.
Working in the countryside has always been a very hard work. Fortunately my parents were able to choose and decided not to dedicate themselves to it. However, I always liked the countryside and since I was young, either studying at university or working in the city, I always had a small herd of pigs that kept alive the link with my origins.
My dream was always to be able to produce my own products and to resume my grandparents' activity. It was not until 2012 when I resigned from the position of manager in a large pork company to return to the village and, together with my wife Isabel, give birth to our family project: La Última Dehesa.
The product we produce is part of our family tradition and my professional experience, both in the production and in the work in the field. Our goal has always been to achieve the highest possible quality while respecting the times of nature and taking care of the environment in which we live. From this mixture of tradition, experience and research is born the product that we are offering today.
The company has always been a family business. My wife Isabel and I started working together, but as we have grown and gained the trust of our customers, the "family" of La Última Dehesa has grown to the 6 people we are now. They all share our passion for producing the best traditional product.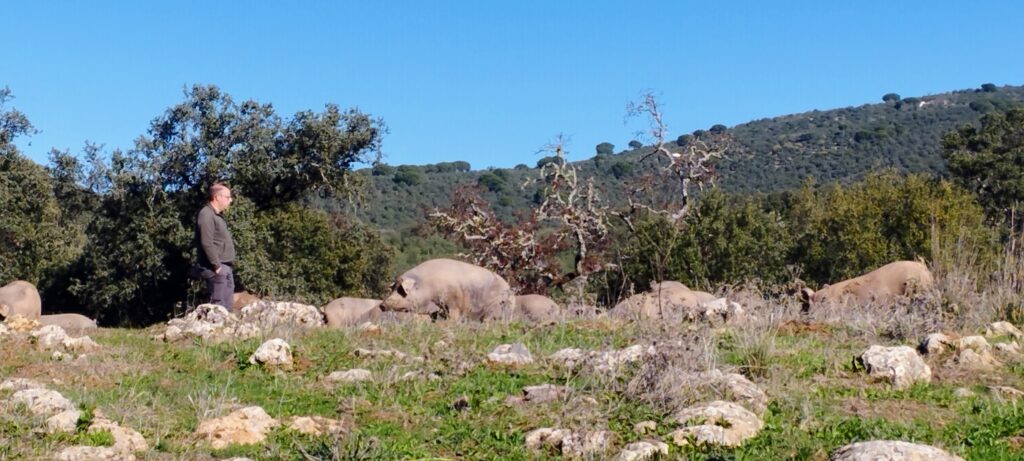 La Última Dehesa
Our farm is located in the natural park Sierra de Aracena and Picos de Aroche, more specifically in the municipality of Hinojales. This small town of 300 inhabitants is located between the blurred line that separates Andalusia and Extremadura and is surrounded by pastures full of long-lived oaks and cork oaks, which in autumn serve with their acorns as food for the Iberian pig.
My whole family has solid roots in Hinojales and I feel that its history and culture run through my veins. I am proud to see the growth and development of our production with the help of my family and to make a piece of our land known around the world.
The total size of all the plots that make up our estate exceeds 70 hectares. Most of them come from the inheritance of my grandparents to which have been added others that were bought by my parents, always in the same area, trying to unify them to form the farm we have today, Los Carneros.
Los Carneros is crossed from north to south by a stream that feeds the farm with water throughout the year. This is essential for the animals, since they not only need it for their consumption but also to cool off and be comfortable in hot weather such as summer, when temperatures can reach over 40 degrees Celsius.
The land of our farm is characterized by being very fertile, which provides our pigs with plenty of grass to graze on. It is very important for the animals to have grass all year round, since the grass they consume provides them with natural antioxidants such as vitamin E, which are very important in the curing and maturation of our products.
It is fundamental for us that the pigs are raised in freedom and feed on what they find in the pasture (herbs, insects, seeds etc.) One of their main foods is the acorn that is available in the period of montanera (from late November to mid-February), at this time the acorn falls from the oak or cork oak and is when it is available for the pigs to feed on it.
We have always carried out free-range livestock farming. Treating the animals well, worrying about their comfort and good nutrition is always transmitted in the quality of the final product. An animal that has had a life locked up in confined spaces, with fear and stress and fed with fodder has a much tougher meat with a worse taste.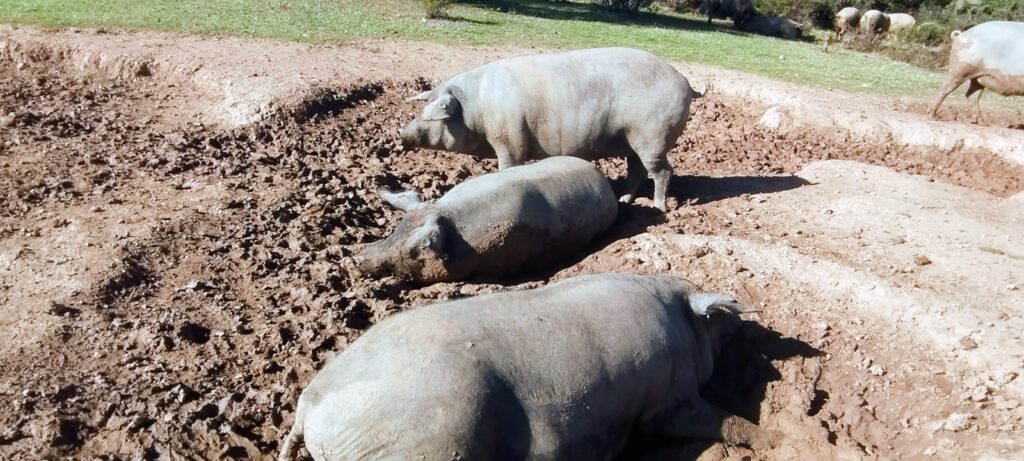 Iberian Pigs and La Dehesa
As the pigs live in freedom, we do not have to worry about problems such as the accumulation of slurry and animal waste, as these remain in the fields and play a fundamental role in the fertilization of the land. However, we are very aware of the density of livestock and that is why we limit the number of pigs on our farm to avoid degradation and erosion of the pasture that could lead to desertification of our environment and landscape.
Currently the biggest problem we find in our dehesa is related to the holm oaks, the main tree of our farm. More and more our oaks are suffering from the disease known as "dry oak disease". This disease is caused by a group of soil fungi that enter the vascular system of the plant and cause its death. For a healthy holm oak to become sick, its habitat must be altered. As rainfall decreases, the holm oaks are increasingly stressed by the lack of water and are more susceptible to being affected by this disease.
For the moment our oaks are holding their own, but there is still no global solution to this problem.