Sete Buenavista
My name is Sete Buenavista and I am a biologist specialised in Conservation Biology of Natural Resources. After completing my bachelor's and master's degrees, I lived in other countries for work and for a doctoral research contract. However, job insecurity and instability, together with the vital need to return to the countryside and the difficulty of developing as a researcher from a rural environment, pushed me to generate self-employment options to suit the needs of my family and my vocation, combining the professional experience acquired from the field of research in nature conservation with activities that I have developed for years as a hobby.
The project emerges from the transformation of this hobby into a self-employed professional economic activity, with which I pursue the enhancement, recovery and improvement of natural resources in rural areas of the Sierra de Huelva that have fallen into disuse or are already abandoned due to the loss of economic interest and the loss of population linked to primary activities, through a sustainable economic use that revalues these spaces, their resources and provides sustainable products and services of value to the environment where I live.
One of my main goals is to make visible that small artisanal enterprises located in rural areas can be viable in order to generate not only jobs, but also projects for a dignified life for families through inspiring business models for young people seeking to start an alternative life project to those already traditionally established in the area, favouring their rooting or attracting new settlers and contributing to address the challenge of depopulation of the territory.
We also founded an association from which we develop outreach work on nature conservation, the recovery of native breeds in danger of extinction in collaboration with other institutions, as well as local seeds and varieties and traditional farming knowledge in danger of disappearing.
We promote these activities not only as a source of economic wealth, but also social and cultural in the territory, as well as acting as a tool that complements the current policies of environmental conservation and the fight against the effects of global change, as well as its contribution to various Sustainable Development Goals promoted by UNESCO.
Valconejos
Our Valconejos farm is the place where we live, work and carry out nature conservation work. It belongs to the municipality of Cortegana, located in the region of the Sierra de Huelva, an area of great environmental relevance, especially rich in natural resources and distinguished by its biodiversity, quality and good state of conservation of natural heritage, recognised through various figures of environmental protection and recognition by UNESCO as a Biosphere Reserve.
We have a surface area of 10 hectares, composed of a mosaic of Mediterranean forest with dehesa in some areas and other more enclosed areas with greater complexity, where areas of olive groves and orchards are integrated. Part of this landscape is crossed by a stream with typical riverside vegetation. We acquired this farm in 2020, at which time we began to develop a plan to restore the estate and promote biodiversity, compatible with the use of all the resources that this space offers us to live in.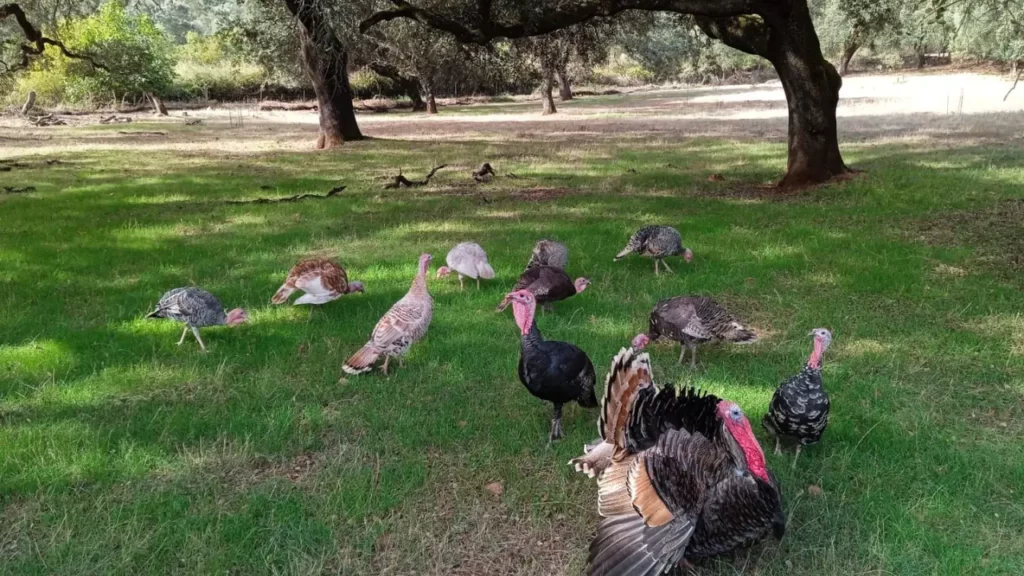 One of the aims of our farm is to maintain, recover and promote native breeds, most of which are in danger of extinction, as well as their traditions and uses linked to the appearance of these breeds in the rural environment. We do this thanks to agreements with other organisations dedicated to safeguarding them, such as the Seville Provincial Council, the University of Cordoba and the Biological Station of Doñana, Cañada de los Pájaros, etc.

With the breeding of turkeys, we collaborate with the University and the Diputación of Córdoba for the recovery of this breed in danger of extinction, the turkey known as the Andalusian, Extremaduran or Dehesa turkey. It is a rustic and light turkey with a great maternal instinct that makes very good use of resources such as acorns, olives and stubble, being able to live perfectly in the open air. Due to its lightness, it can easily climb holm oaks and keep itself safe from predators.
We also have Oca Andalusí, an unknown and rare goose. It is the smallest breed, recently declared as a native Andalusian breed and in danger of extinction. Due to its small body size, it withstands the rigours of the summer very well, adapting its forage diet perfectly to the uses of the farm. Thanks to its basically herbivorous diet, it makes very good use of forage and acorns. In addition, the aim is to recover the tradition of grazing these animals near the farmhouses and in the open areas of the farm, where they act as a warning and guard due to their strong herd instinct and protection.
Moreover, the installation of various beehives both on the farm itself and on nearby land produces honey, pollen, propolis and wax both for food use and for the manufacture of cosmetic products produced on the farm itself. They are managed in a non-intensive manner so as not to interfere with biodiversity or displace native pollinators. In the same way, the flora on the farm is promoted, especially shrubs, to achieve a staggered and distributed flowering throughout the year. This avoids having to supplement the bees with processed food.
We also carry out managed shepherding of a flock of black and white Merino sheep and Andalusian donkeys. These breeds are adapted to the terrain and to extensive rearing without the need for supplementary feeding or complex installations. By shepherding and grazing, higher quality pastures and higher yields are achieved and the possibility of fires is drastically reduced.
The location of the orchard in the lowest, most fertile and coolest area of the farm means that very little water and external inputs are required. We follow the principles of minimum tillage agriculture, which consists of tilling the soil very rarely and only on the superficial part without altering the soil layers, maintaining a better soil structure and keeping all the micro-organisms that form it. We grow both rainfed and irrigated local varieties interspersed with fruit trees.
To be able to manage the farm in a self-sustainable way, it is important to sell the excess production directly to the consumer. Thanks to GOURE we are able to sell our products in a direct, fair and close way without having to deal with intermediaries.